August 31, 2016
Celebrating another successful year of Panhellenic Sorority Recruitment
Submitted by Office of Fraternity and Sorority Life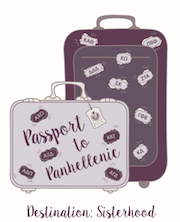 A total of 787 women signed up for Primary Panhellenic Recruitment Aug. 15-19. While registration numbers are slightly lower across the nation this year, the women behind those numbers continue to be more involved and have more leadership potential than ever before.
"Joining the Office of Fraternity of Sorority Life this spring, I finally saw why K-State uses the token word of 'family.' I was impressed with the dedication of all those who had a part, big or small, in the recruitment week," said Kathleen MacLeay, assistant director of Fraternity of Sorority Life and Panhellenic Council advisor. "It would not have been a successful week without the hands-on work of our campus partners, Panhellenic Council board of directors, the recruitment guides, the chapter members and the chapter advisors."
The Panhellenic board of directors planned the weeklong event. Bailey Wright, senior in biology, and Gaby Riggs, junior in marketing, coordinated the direct planning and oversaw the execution of Primary Panhellenic Recruitment.
This year, 46 women served as recruitment guides, each of whom disaffiliated with their own chapters during recruitment in order to provide unbiased support for the potential new members.
Starting early on Monday, Aug. 15, each recruitment guide led her group of 15-20 women to meet the 13 National Panhellenic Conference sorority chapters. The potential new members met all 13 chapters on Aug. 15-16. After Aug. 16, potential new members selected their top 10 chapters, while the organizations also selected women they wanted to invite back. On Aug. 17, chapters focused on the topic of philanthropy and potential new members were able to visit up to 10 chapters. Aug. 18 was centered on sisterhood and facility tours, and potential new members were able to visit up to seven chapters.
On Aug. 19, the last day of Primary Panhellenic Recruitment, potential new members were able to visit up to three chapters. This final day is unique because sorority members have the opportunity to share their ritual and deepest values with the women.
Chapter advisors gathered to write the names of 649 women on bid cards for the potential new members to open at 7 p.m. Aug. 19.
Due to inclement weather, the Bid Night celebration was moved inside the K-State Student Union. Women opened their bid cards in the Union's Ballroom before running through a purple balloon arch to meet their new sorority sisters on the newly opened courtyard. As each chapter met their new members, other chapters were able to look on and cheer from the ground floor and second floor concourses.
"We are overjoyed to have competed yet another successful sorority recruitment here at K-State," shares Wright. "I really look forward to watching these new members thrive as K-State students and community leaders."
For more information about the fraternity and sorority community, visit k-state.edu/fsl.