October 18, 2016
Learn to skydive: First jump course Oct. 28-29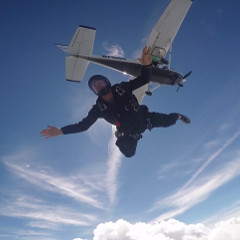 Join the K-State Parachute Club for its 52nd year of skydiving. The club's fourth training session of the semester will be at 6 p.m. Friday, Oct. 28, in the K-State Student Union's Big 12 Room. Training continues at 8 a.m. Saturday, Oct. 29, at the Abilene Municipal Airport where you will make your first jump.
The club's United States Parachute Association-rated instructors will teach you everything you need to know to confidently exit the airplane, pilot your canopy and ensure a soft landing.
The cost for the course is $170 and includes more than six hours of training, gear rental and your first jump. Subsequent training jumps average about $45, and in as few as 25 jumps, you can become a licensed skydiver, jump anywhere in the country and represent K-State in the United States Parachute Association Collegiate Nationals competition. Jump tickets for licensed skydivers are $22 from 10,000 feet and $27 with gear rental.
Sign up for this course or any of the other course dates for this semester online.
Email info@skydivekstate.com with any questions, and check out the club's Facebook page and club website for more information. If you'd like to make a tandem jump instead, email tandem@skydivekstate.com.