August 22, 2016
Hale Monopoly: Put yourself in the game
Submitted by Sarah McGreer Hoyt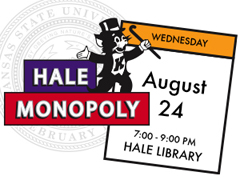 Attend Hale Monopoly from 7-9 p.m. Wednesday, Aug. 24 in — where else? — Hale Library. As you play a live-action version of the classic board game, you'll accumulate a wealth of tips and tricks.
Players who conquer all four stations gain entrance to prizes and games in Hale Library's Great Room.
Plus, the first 150 students to complete the challenge receive a T-shirt.