March 16, 2012
Steve Logback named assistant vice president for communications and marketing
Submitted by Communications and Marketing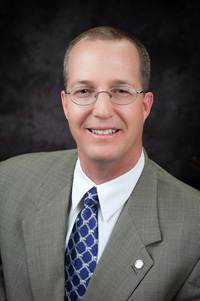 A nationally recognized marketing and communications director with experience in public higher education has been selected to help lead those efforts at Kansas State University.
Steve Logback will begin his new role as the assistant vice president for communications and marketing for the university on April 16. He is currently the assistant vice president and director of communications for the K-State Alumni Association.
Logback will play a key leadership role in the Division of Communications and Marketing, helping further develop and implement strategic communication efforts that promote K-State's institutional priorities and distinguish the university as a leader in higher education. Additionally, he will serve as the primary contact for university administrators, faculty, staff, students and colleagues at other universities on issues related to K-State's marketing and communications.
"I am excited about the leadership and direction of K-State," Logback said. "Many initiatives are underway to advance the university, and I look forward to joining a talented team in the division to help continue that positive momentum from a communications and marketing perspective."
As the current assistant vice president and director of communications for the K-State Alumni Association, Logback has been with the association since 2004 and oversees all planning, development and production of printed and electronic communications that promote the association and university, including the integration of social and new media. He also serves as the primary media contact and is a member of the association's three-member executive team.
"The communications department at the K-State Alumni Association is one of the best in the nation and they have the awards that prove it," said Jeff Morris, vice president for communications and marketing. "Steve has played a crucial role in the association's success and recognition. We're excited to see his knowledge and passion for the university transition to the entire K-State family."
Under his guidance, association staff members have received numerous recognition for their communications efforts. In January, the association earned 10 Council for the Advancement and Support of Education -- or CASE -- awards. They included awards for the K-Stater magazine, the association's website, @K-State e-newsletter and fundraising direct mail.
The native of Hill City, Kan., hails from a multi-generational community newspaper family and also has experience in corporate and nonprofit communications and marketing. A 1990 K-State graduate, Logback earned his bachelor's degree in journalism and has served the A.Q. Miller School of Journalism and Mass Communications as an adjunct instructor. He has longtime ties to the university with the fifth generation of his family currently attending K-State, and his great grandmother is the namesake of Boyd Hall on the Manhattan campus.
Logback has been active in the Manhattan community serving as a past president and board member of both the Manhattan Boys and Girls Club and the Manhattan Solar Kiwanis Club. He is also a graduate of Leadership Manhattan, the Flint Hills Regional Leadership Program and has spent many years as a volunteer youth sports coach.
He and his wife, Donna, have two children, Elizabeth, a sophomore at Manhattan High School and Logan, a sixth grader.