March 14, 2012
Donor establishes R.C. and Eva Finley Center on Aging Scholarship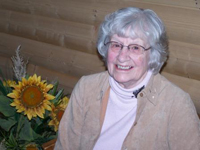 From her origins in Hiawatha, to attending college at Nebraska Wesleyan at age 16 and embarking on careers that took her to Missouri, Kansas, Oklahoma, California, Arizona and Washington, D.C., Vivian Nolte has lived many lifetimes in her 91 years. In fact, according to Nolte, she's the only grandchild in her family who inherited the thrill-seeking spirit from previous generations of her family that included travelers from Scotland and bridge builders in Africa.
Today, living in her hometown, she enjoys a more relaxed pace of lifel But among her life's many adventures, Nolte recalls a summer spent in Manhattan as a teenager with two friends from Hiawatha as one of the best of her life. Little did she know that later in life, Manhattan — and K-State — would become a significant part of her life and legacy.
Just last year, it was a visit to the Meadowlark Hills Retirement Community in Manhattan where she was introduced to students at a presentation by the K-State College of Human Ecology's gerontology program that inspired her to establish the R.C. and Eva Finley Center on Aging Scholarship. The scholarship, which was established with $200,000 through a charitable gift annuity, is named in honor of her parents, who originally instilled in her the importance of charitable giving.
"I was just brought up to be that way," Nolte said. "My parents were very, very philanthropic and it was always part of my life.
"I was entranced by the young people in the program," she said. "I was really impressed with everything they're doing at K-State to train young people how to take care of an aging population and how it can make a difference in the lives of both the caregivers and the people they're helping."
According to Gayle Doll, assistant professor in human ecology and director of the K-State Center on Aging, 13 percent of the population in the U.S. is over 65, and by 2030 that figure should reach 20 percent. She believes there's a tremendous need for students with the skills and enthusiasm to pursue careers in gerontology, and that this scholarship will help the center prepare the next generation of experienced, compassionate caregivers.
"We all experience aging — it's part of life," Doll said. "Before you know it, you're expected to be a caregiver. Ms. Nolte's support will help us provide students with an additional edge — and empathy — for older adults so they can make a difference in their lives and in the community."
To Nolte, setting up the scholarship through the charitable gift annuity provides shared benefits to both her and K-State, and she's pleased that she'll be able to provide assistance to students interested in the program.
"I think it's great that students want to get into this field," Nolte said. "And for me, an annuity was a good way to do it. It provides me with an income and later on, it will provide K-State with the resources to help students. It's a wonderful way for me to give to somebody else."