April 29, 2016
Three K-State Libraries employees recognized for excellence
Submitted by Sarah McGreer Hoyt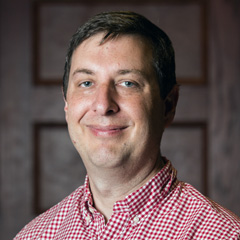 At a recognition ceremony on April 11, K-State Libraries honored several employees for outstanding contributions.
Jason Coleman, academic services librarian, received the Brice G. Hobrock Distinguished Faculty Award. Annually, the award recognizes outstanding librarianship and superior accomplishments among the K-State Libraries faculty.
Coleman, who received his master's degree in library science from Emporia State University, provides research support for the social sciences, as well as virtual reference and undergraduate research support. He is extensively involved with the Reference and User Services Association, a section of the American Libraries Association.
One of his nominators said, "Jason is the most passionate and dedicated librarian I have ever known, and we are truly fortunate that he is part of the K-State Libraries faculty. He consistently goes the extra mile in providing resources for our students, both online and in the classroom."
Darchelle Martin, public relations officer, received the Dean's Award, which recognizes a non-tenure track unclassified professional's contributions to K-State Libraries in the previous two academic years.
Martin was commended for her leadership and professionalism. Her nominator said, "Whether it's soliciting donations, scheduling staff or rallying students, Darchelle is an effective and ideal ambassador for our organization. The Friends of the K-State Libraries have had multiple successful galas during her tenure, including last year's event, which set a new fundraising record."
Dennis Ryan, annex collection coordinator, was chosen as the Support Staff of the Year. This award recognizes a classified employee's special contributions, dedication to daily tasks and ability to work successfully across the organization.
According to one nominator, Ryan was instrumental during the move of library materials from a storage facility in Lawrence to the new K-State Annex in Manhattan: "His dedication to working all facets of the project and seeking out answers from the training staff were evident as he quickly became a leader in the process. While much of his work is unseen, the impact of his contribution … cannot be overstated."
Each winner receives a monetary prize, and their names are added to award plaques in K-State Libraries. The Brice G. Hobrock Distinguished Faculty Award was established by the Friends of K-State Libraries to honor Dean Emeritus Hobrock upon his retirement in 2004. Both the Hobrock Award and the Support Staff of the Year Award are funded through the Friends of the K-State Libraries.