April 25, 2016
National Strategic Selling Institute director Dawn Deeter receives the Marketing Innovator Award from the Marketing Management Association
Submitted by Brent Fritzemeier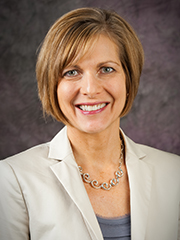 Dawn Deeter, director of the National Strategic Selling Institute in the College of Business Administration, has been honored by the Marketing Management Association with its Marketing Innovator Award.
The award recognized Deeter for her outstanding contribution to the field of marketing, and was presented to her at the association's recent 2016 spring conference in Chicago. In addition to winning the award, Deeter also was asked to serve as the keynote speaker for the conference's awards luncheon, giving a special presentation, titled "Sales Education: Past, Present and Future Trends."
Under Deeter's leadership, the National Strategic Selling Institute has been named one of the top sales programs in the country by the Sales Education Foundation for five straight years. The institute's Strategic Selling certificate program is open to all majors at the university, and allows students to distinguish themselves by demonstrating professionalism and competency in selling skills. Students who receive their certificate have had a 100 percent job placement rate following graduation since the program's inception.