April 8, 2016
Lights, camera and action: K-State 48 Film Festival premiere features student-made films Saturday, April 9
Submitted by K-State 48 Film Committee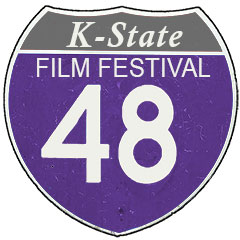 Come experience 10 student-made films and be a part of the inaugural K-State 48-Hour Film Festival Saturday, April 9, in the Leadership Studies Building's Town Hall. The films explore topics such as belonging, connection to one another, just for fun and a good old-fashioned murder mystery.
The premiere begins at 6 p.m. and will be followed by an awards ceremony for the top three judged films. The ceremony will conclude with an audience choice award, a vote open to all in attendance. Download the invitation and be sure to share it with your friends.
Come be a part of this fun and free event, support K-State students and see some terrific films!