April 8, 2016
National conference selects 14 K-State students for internship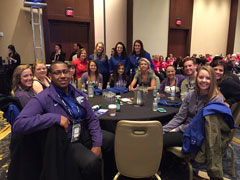 Fourteen Kansas State University students were interviewed and selected for an internship at the American Israel Public Affairs Committee, AIPAC, Policy Conference 2016 on March 20-22 in Washington, D.C. Each student had all expenses paid and earned an additional stipend for working five days at the almost 19,000-person conference. Only 400 students were selected from across the globe.
The AIPAC Policy Conference 2016 featured politically significant speakers, including Vice President Joe Biden, Israeli Prime Minister Benjamin Netanyahu, Democratic Presidential Candidate Hillary Clinton and Republican Presidential Candidates Donald Trump, Sen. Ted Cruz and Gov. John Kasich. The students were active participants in venue management and special event management. At an event this large, they also were able to experience protesters and crowd control. The caliber of the conference provided many networking opportunities.
The K-State students that attended included 13 students from the of hospitality management department studying convention, event and meeting management: Katie Baker, Laura Blaine, Emily Bolton, Mekenna Crowe, Lindsay Davis, Evan Eisenbeis, Emily Gliserman, Maddy Irvine, Erica Johnson, Monica Ladron, Maddy Randall, Kelsey Unrein and Brooke Witt. Adrian Esquilin also was selected and is currently studying communications. Kristin Malek, assistant professor in hospitality management, returned as zone manager for a second year and oversaw a group of students from various universities around the world.