February 23, 2016
A.Q. Miller School of Journalism and Mass Communications mourns loss of Tom Gould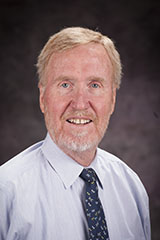 The A.Q. Miller School of Journalism and Mass Communications mourns the loss of one of its faculty members, Tom Gould. Gould died Sunday, Feb. 14, after a long battle with brain cancer.
Gould joined the K-State family in 1998 as an aspiring assistant professor of advertising. He since worked his way up the ranks and earned full professor status in 2013.
Originally from Macon, Georgia, he grew up in Paris, France. After eight years there, his family returned to Georgia and settled in Savannah where he worked as a journalist and wire desk editor for the Savannah Daily News. He earned bachelor's degrees in English from Armstrong Atlantic State University and in journalism from the University of Georgia. His master's degree in English is from the University of North Carolina, Charlotte and his doctorate in mass communications is from the University of North Carolina, Chapel Hill. Early in his career, he worked in advertising and as a web consultant. Until recently, he served as the co-editor of the Online Journal of Rural Research and Policy, the research journal for the Great Plains.
A celebration and remembrance of Gould's life is planned and will be announced.