February 23, 2016
Volunteer, internship and employment opportunities at Fort Riley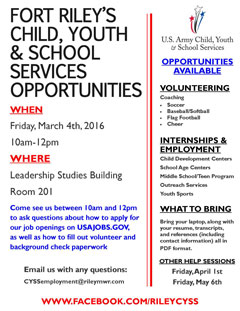 Interested in volunteer, internship or employment opportunities at Fort Riley? The Institute for the Health and Security of Military Families is collaborating with Fort Riley's Child, Youth, and School Services to host a question and answer session from 10 a.m. to noon Friday, March 4.
Information will be provided about how to apply for job openings on usajobs.gov, as well as how to complete volunteer and background check paperwork.
Email CYSSemployment@rileymwr.com or Kali Summers at kalijo@k-state.edu with questions.