February 22, 2016
University, community groups setting big goals to spur economic development, business growth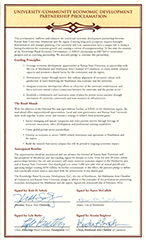 Local officials are setting aggressive goals for an economic development partnership that has already attracted nearly a dozen new companies and created hundreds of full-time jobs in the immediate area.
Lyle Butler, president of the Manhattan Area Chamber of Commerce, presented a proclamation to recognize Knowledge Based Economic Development, or KBED, during the chamber's annual business meeting on Feb. 19.
The proclamation was signed by Butler; Kansas State University President Kirk Schulz; Manhattan Mayor Karen McCulloh; and Manhattan Area Chamber of Commerce board chair Kristin Brighton.
KBED was established in 2008 to align the city's strategy for economic development in a way that capitalizes on the university's research strengths and the area's growth opportunities. It is a combined effort by the city of Manhattan, the Manhattan Area Chamber of Commerce, Kansas State University, the KSU Foundation, the K-State Institute for Commercialization, the K-State Research Foundation and the North Central Kansas Community Network.
"I think the best thing about the partnership between K-State, the city and the chamber is that we don't take anything for granted — we have been able to compete successfully with much larger communities because we put forward a unified approach," Butler said. "Companies sense the high level of cooperation that goes on here, and it makes them more comfortable in their decision to do business in the Manhattan region."
Since 2007, KBED has helped 12 companies relocate or grow operations in Manhattan. Recent examples include Garmin International, CivicPlus, the Veterinary and Biomedical Research Center, Avatekh and General Electric Aviation.
As of 2015, KBED estimates it has helped create 321 full-time jobs in the region, and projects 672 more over the next five years. The average salary of jobs created is $52,238.
The proclamation signed at the chamber's annual meeting sets a goal of creating 5,000 new jobs for the area in the next 20 years, with an associated annual payroll and operating budget of $450 million.
"The work KBED does helps us recruit and retain highly educated workers who often bring with them highly educated spouses, which gives all of our businesses an infusion of new talent into the local pool," said Brighton, who is a co-owner of New Boston Creative Group in Manhattan.
"As we gear up for the opening of the National Bio and Agro-defense Facility, or NBAF, in the next five to six years, we'll need a cumulative mass of such employees," she added. "But to recruit them, we'll also need to be able to offer their spouses employment. This is why we need a plan, so that we can maximize this growth and recruit the people we need to take advantage of all of the opportunities that follow."
Schulz said KBED also works to develop partnerships with local businesses, part of the university's commitment to the immediate area. The Princeton Review has previously rated Manhattan and Kansas State University as one of the Top 5 "Town and Gown" relationships in the country.
"As a land-grant institution, Kansas State University's mission is not only serving students, but also improving the quality of life for Kansas residents," Schulz said. "As we see in the numbers, our partnership with KBED is helping stimulate innovation and economic growth in the state. The benefits from this partnership will only increase for the state as Kansas State University advances to becoming a Top 50 public research university by 2025."
K-State and several city groups also have worked successfully in early development of the university's north campus corridor, which is now known as the Bio-Agro Science and Innovation Corridor, or BASIC.
"Manhattan and the surrounding region has a lot to offer companies in many industries," Butler said. "What we've been able to do with KBED is show that our region is serious about providing great opportunities for these companies because they realize that the resources at Kansas State University and throughout our community are quite good. We've had early success, but we're just getting started in attracting companies here."
Read more information about KBED and Manhattan's economic development strategy.