February 18, 2016
K-State music professor wins Grammy Award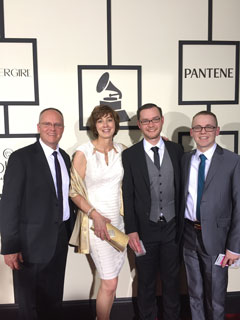 K-State music professor Bryan Pinkall, along with the Kansas City Chorale, Phoenix Chorale and conductor Charles Bruffy, won the Grammy Award for Best Choral Performance on Monday in Los Angeles, California. Pinkall was a soloist and chorister on the winning album, "Rachmaninoff: All Night Vespers."
"I was completely stunned," said Pinkall. "We all jumped up and screamed when they said our name. The entire experience was unforgettable."
Pinkall attended the award ceremony on Monday where the album was nominated for two Grammy Awards — Best Choral Performance and Best Engineered Album, Classical — and the producer of the album, Blanton Alspaugh, was nominated for Producer of the Year, Classical. The album was released in March 2015 and debuted at No. 1 on the Classical Billboard and Traditional Classical Billboard charts.
Since Pinkall joined the Kansas City Chorale in 2012, the ensemble and its conductor, Charles Bruffy, have earned four Grammy nominations and three Grammy wins. Pinkall also was a production manager for the 2014 Sochi Olympic Winter Games Opening Ceremony which earned four Primetime Emmy nominations, winning one.