February 18, 2016
Undergrad Jakki Forester to present research at three national, local conferences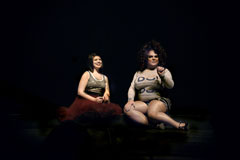 Jakki Forester, senior in print journalism and American ethnic studies, will present her research on drag culture in central Kansas at three conferences in the upcoming months.
The conferences are the Midwest Bisexual Lesbian Gay Transgender Ally College Conference, or MBGLTACC, at Purdue University Feb. 19-21, the third annual Gender and Sexuality in Kansas Conference at Wichita State University on March 4 and the No Limits Conference at the University of Nebraska-Lincoln on March 11.
Forester's research focus is on drag performers — both drag kings and drag queens — in central Kansas, which include the cities of Salina, Junction City, Manhattan, Topeka and Salina. Specific components of her research include gender performativity, transformations of individuals in and out of their drag identities, pseudo-safe spaces for queer individuals in rural communities, racial dynamics within drag culture, positionality of perceived power within queer communities and intersectionality of multiple identities of privilege and marginalization.
The specific areas of Forester's research she will present on at all three conferences include gender performativity theory, transformations and growth of individuals' identities in and out of drag, creation and sustainment of pseudo-safe spaces for queer people within rural communities and positionality of perceived power of drag performers in these queer communities.
MBLGTACC is a regional three-day conference hosted annually at a university or college within the Midwest region of the U.S. to discuss contemporary queer issues, problems and concerns. Annual attendance includes more than 2,000 students, faculty and community members who can attend more than 90 workshops, forums and keynote speakers. This year's theme is "Introspection at the Crossroads."
The Gender and Sexuality in Kansas Conference highlights original gender and/or sexuality related research and scholarship across disciplines from colleges and universities in Kansas.
The No Limits Conference was created as an interdisciplinary conference that accommodates both traditional and nontraditional topics and presentations. The conference is open exclusively to undergraduate students, graduate students and recent graduates. This year's theme is "Sexuality and Gender in the Digital Age."
As an undergraduate researcher, Forester looks forward to presenting at all of these conferences. She is excited to represent herself, the departments she is a part of at K-State and the university as a whole at each conference. In between the conferences, as well as until she graduates in May, Forester will continue researching drag culture in central Kansas.