February 17, 2016
Horticulture club quilt fundraiser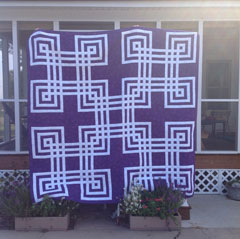 Help support the National Collegiate Landscape Competition team by buying chances to win a quilt by one of the students in the department of horticulture. Proceeds go to funding the teams' trip to Mississippi State in March.
Horticulture club members are raising funds for their trip to the National Collegiate Landscape Competition March 16-19 at Mississippi State University in Starkville, Mississippi. Attending this competition allows students to become more involved in the landscape industry and allows them to meet companies within the industry along with meeting new students from other colleges in the U.S.
Chances are being sold until Feb. 19 by those who are attending the trip in March. The price of tickets are $3 for one ticket, $5 for two tickets and $10 for six tickets.
The quilt was donated by Rhonda Wassenberg and her daughter, Addie, who is a current student in Landscape Management. The quilt pattern is called Maze Runner.
Contact Addie Wassenberg at alwassenberg@k-state.edu for more information or to buy tickets.