February 12, 2016
Kansas Forest Service welcomes new district forester
Submitted by Jennifer G. Williams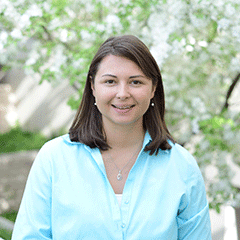 Ashley Stiffarm is the new district forester for District 4 in southeast Kansas. Stiffarm serves seven counties, assisting private landowners with tree planting projects, forest management, Natural Resources Conservation Service cost-share programs and forest health.
She was born and raised in Kansas City, Missouri. Stiffarm has an associate's degree in natural science and a bachelor's degree in environmental science from Haskell Indian Nations University in Lawrence, Kansas. In 2015, she graduated with a Master of Science in horticulture from K-State.
Established in 1887, the Kansas Forest Service is the nation's fifth oldest state forestry agency. It serves rural landowners, communities, rural fire districts, forest and arboriculture industries, and citizens of the state. This is accomplished through its conservation tree and shrub planting, fire management, community forestry, rural forestry, marketing and utilization and forest health programs.
The agency is administratively attached to the horticulture, forestry and recreation resources department in the College of Agriculture.