February 3, 2016
University Honors Program director search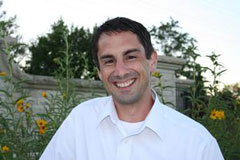 Justin J. Kastner will this summer conclude his highly successful tenure as director of the University Honors Program. Among his many notable achievements, Kastner has led a recently approved restructuring of program requirements, expanded benefits, and helped recruit and mentor a steadily growing number of K-State honors students. Thankfully, the program will continue to benefit from Kastner's teaching, mentoring and advocacy even as he returns to his full-time faculty appointment in the diagnostic medicine and pathobiology department in the College of Veterinary Medicine.
The national search for a new director will be led by Tim de Noble, professor and dean of the College of Architecture, Planning & Design. Dean de Noble will be joined in this effort by the following search committee:
Daralyn Gordon Arata, advisor, Office of Pre-Law Advising
Stephanie Bannister, associate director, Department of Housing and Dining Services
Louise Benjamin, associate dean, College of Arts & Sciences
Kelly Briggs, academic advisor, College of Education
Anita Cortez, director, Office of Undergraduate Research & Creative Inquiry
Emily Dringenberg, First-Year Program instructor, College of Engineering
Jim Hohenbary, director, Office of Nationally Competitive Scholarships; associate director, University Honors Program
Madelyn Johnson, senior in psychology, University Honors Program ambassador
Shawna Jordan, assistant dean, College of Human Ecology
Drew Kohlmeier, senior in biology, Honors Executive Board president
Kiley Moody, coordinator, New Student Services
Chwen Sheu, interim associate dean, College of Business Administration
Shannon Washburn, assistant dean, College of Agriculture
Cecilia Wuertz, University Honors Program '15, interim program assistant
Later this semester, the search committee will announce opportunities for members of the K-State community to meet finalists and learn about their vision for the University Honors Program's future growth and development. The committee's goal is to facilitate the appointment of a new program director by July 1.
Please contact Steven Dandaneau, vice provost for undergraduate studies, with any questions at dandaneau@k-state.edu or 785-532-1097.