February 3, 2016
American music expert to lecture at K-State on the blues and Sousa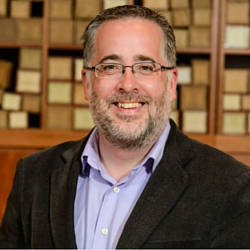 Noted American music scholar Patrick R. Warfield will present "The Blues: Structure, Style, and Meaning" for three different K-State music classes on Wednesday, Feb. 3. His lectures will take place at 8:30 and 9:30 a.m. in 204 McCain Auditorium, Kirmser Hall, and at 10:30 a.m. in 105 McCain. At 3:30 p.m., he will address the K-State Wind Ensemble about proper interpretations of marches by Sousa and others. His presentations are open to the public.
Warfield is the world's preeminent scholar of John Philip Sousa and his band. His publications have appeared in the Journal of the American Musicological Society, American Music, the Journal of the Society for American Music and Nineteenth-Century Music Review. He is the editor of "Six Marches" by John Philip Sousa for the series "Music of the United States of America," and the heralded monograph "Making the March King: John Philip Sousa's Washington Years, 1854-1893." Warfield is an associate professor of musicology and associate director for academic affairs at the University of Maryland School of Music, and is an affiliate faculty member in the American studies and African American studies departments. He was a founding member of the editorial board of the Journal of Music History Pedagogy, and is especially interested in the teaching of American popular music, including rock, jazz and the blues. He also is active as a public musicologist, delivering programs for the Music Center at Strathmore, the Washington National Opera and the Smithsonian.
Warfield's residency at K-State is sponsored by the 5th Recruiting Brigade of the U. S. Army and also the Kansas State University Bands, Frank Tracz, director of bands, and Donald Linn, assistant director of bands.