February 28, 2012
A letter from Athletics Director John Currie – Feb. 25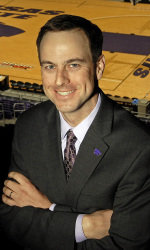 Good Morning K-State Fans,

I wasn't sure how we could top last Saturday's four wins in tennis, baseball, and men's and women's basketball, but it's been another great week already, and we're not slowing down – today is a huge one for K-State sports action with our track programs competing at the Big 12 Indoor Championships, baseball playing in San Diego, our women's basketball team at Missouri (watch live here on K-StateHD.tv or listen in at 12 p.m. on 1350 AM/102.5 FM) and of course, our home men's basketball game against Iowa State at 12:30 p.m. in Bramlage Coliseum.

Wildcats making noise at Indoor Big 12's
Yesterday Ryann Krais captured K-State's first Big 12 Championship of the year, this one in the women's pentathlon after scoring 4,079 points! Click here for a Day 1 recap and preview of Saturday's events. Remember, the Big 12 Outdoor Track Championships will be in MHK, May 11-13. Short of the Olympic Trials and NCAA Championships the 2012 Big 12 outdoor meet may be the most high-level event in the country this year – as many as two dozen student-athletes likely to be representing their countries in the London Olympics will compete in Manhattan.

My week included two days in western Kansas, including stops in Scott City, Garden City, Dodge City, Pratt and Great Bend. It is always encouraging to see the industriousness inherent in the people of our state - and their warmth and passion for K-State. A definite highlight was watching the men's basketball win at No. 3 Missouri with several great Dodge City K-Staters – while at the same time enjoying a fine cut of Kansas beef!

I returned to MHK just in time for Wednesday night's exciting women's basketball win over Oklahoma State. Both of our teams are heating up in the stretch run of the season. I do believe the Big 12 is the best conference in both men's and women's basketball – with the double round-robin format and 10 solid programs there simply are no nights off! Click here to read Mark Janssen's story about the hard work and success both of our basketball programs have enjoyed this season in our tough league.

Baseball is in the midst of a nine-day trip to California to open the season, and has picked up some wins against CSUB and San Diego State, while both golf teams have started their spring slates on the road, tennis is in full gear, and rowing and equestrian are in the early stages of competition.

Here are a few other updates from around the department:

The best fan experience in the Big 12
As you are aware I appreciate the notes with comments, suggestions and concerns I regularly receive from K-State fans. While sitting in a long football stadium planning meeting on Thursday I received the email below from Steve Kahl, a K-State graduate from Iowa, who recently returned to Manhattan for his first basketball game in quite some time.

"We recently attended a Kansas State men's basketball game against Oklahoma January 28th. It was my first time back to Manhattan since graduating from K-State more than 30 years ago. We drove 8 hours to get to Manhattan. What a great experience we had. First we toured the campus Alumni Center, (what a beautiful building) Student Union and drove around the campus. Then of course we had to go to Aggieville to have a bite to eat. After that we went to Bramlage Coliseum, upon entering we were greeted with a big smile and a thank you for coming from a K-State person. What a nice thing, in all the years and hundreds of games I have attended I have never had anyone greet me and thank me for coming. The student section was awesome! They create an atmosphere that is unparalleled in college sports. Along with all the season ticket holders, Alumni and fans that attend K-State basketball games It is the most exciting place to be in the country. I attended school when Jack Hartman was the coach and it seems like Coach Martin has brought back the toughness and winning attitude K-Staters come to expect. How lucky you are to attend K-State athletic events, it is something that is never forgotten. Once a K-Stater always a K-Stater!"

Steve's note illustrates how all members of the K-State family do their part to make our city and university special – in this case recognizing our ushers, our local merchants, K-State students, fans, our outstanding alumni staff and fine university administration and of course our coaches and student-athletes. Together we will achieve our vision of being a model intercollegiate athletics program.

Ahearn Fund surging toward March 1
It has also been a very busy few weeks for our Ahearn Fund staff. We've had lots of new members joining from all over the country, responding to the R1SEUP campaign and the personal efforts of our staff and volunteers. Remember, making your pledge by March 1 with 25 percent of your 2012 contribution is a key step in our ability to operate in a fiscally responsible manner as we complete our budget process for the next academic year. You can click here to visit to Ahearn Fund online or call 785-532-5282 to set up a personal visit with our staff. We are tracking for another record-breaking year and appreciate each and every member.

Academic success continues
We are proud of the continued emphasis and success that all of our student-athletes and programs have achieved in the classroom. In addition to leading the Big 12 in all-sports graduation rate four out of the last five years, our individual teams continue to be Big 12 leaders in academic success. Our cross country recently earned the USTFCCCA All-Academic Team award after compiling a combined 3.49 team GPA. Four women's basketball players – Brittany Chambers, JuliAnne Chisholm, Jalana Childs and Emma Ostermann – earned Academic All-Big 12 honors last week, while Victor Ojeleye earned his third Academic All-Big 12 honor. Congrats to these student athletes!

Scott named to NCAA Baseball Rules Committee
Senior Associate AD Casey Scott, who has provided our department tremendous leadership in his behind-the-scenes role, was recently appointed to the NCAA Baseball Rules Committee. Casey has been instrumental in the development of our baseball program over the years serving as the sport administrator and is well-deserving and a perfect fit for this role, which is a five-year appointment. So, if you have any questions or suggestions about the many complex rules of the game, he's your guy!

Fritz inducted into hall of fame
Congrats to assistant track and field coach Steve Fritz as he was recently inducted into the Hutchinson Community College Quarterback Club Hall of Fame for his achievements as both a basketball and track and field student athlete. As I have said many times, we are very fortunate here at K-State to have such terrific coaches who mold our student athletes into not only better performances on the playing field but also as individuals, and Coach Fritz and the rest of our track and field staff are certainly well-respected across the world.

Construction updates
Friday afternoon Reid Sigmon and Charlie Thomas took me on my first tour of the Basketball Training Center. K-StateHD.tv staff videographer Jay Moline joined us and we'll send out a video recap of our tour soon, but let me just say it is going to be an unbelievable facility. We are excited about the completion of this building this summer and effect it can have on our future as both basketball programs seek to maintain their leadership position nationally and in the Big 12. Be sure to check out the live webcam of the construction here.

Fundraising for the new West Stadium Center campaign for Bill Snyder Family Stadium is continuing and going very well. The excitement and enthusiasm of Wildcat Nation regarding this project has been phenomenal, and we appreciate the support of K-Staters world-wide in helping make this project a reality. But, we still need your help. Click here for more information on how to contribute to the WSC campaign and for photos and information on this transformational project.

That will do it for today. Good luck to all the K-State student athletes competing this weekend. Don't forget, the home baseball schedule opens Friday so come on out to Tointon Stadium and enjoy this nice weather!

Go Cats!

John Currie