December 11, 2015
Passion for people: K-State distance graduate centers on human resources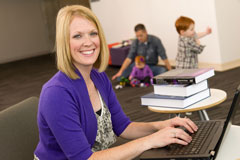 Mariah Welton-Crouser, Kansas City, has always had a passion for people and purple pride. After graduating from Kansas State University with a bachelor's degree in elementary education, she shifted to a career in human resources. Now she's walking across the stage again — this time with a cohort of classmates — as she finishes her Master of Science in psychology with an emphasis in industrial/organizational psychology, or MIOP, through K-State Global Campus.
As a mother of two young children and a part-time freelance human resources consultant, Welton-Crouser needed a way to complete her graduate degree while working and continuing to put her family first. She decided to return to the education she trusted and valued — K-State.
"I really believe that the education that I received as part of my undergraduate education was quality, so when I was searching for master's programs, I primarily was looking for programs with a heavy focus in human resources. The MIOP program is that," she said.
After living out of state, Welton-Crouser and her family moved to the Kansas City area. When she received an email from the Employment Practices Network, an HR organization in Kansas City, about K-State's master's in industrial/organizational psychology program that she had already been considering, she jumped on the opportunity to apply.
"I was really excited to get started with this program knowing that I could advance my career at the graduate level on my terms with the flexibility in mind to complete the program at my pace," she said. "What I loved about the master in industrial/organizational psychology program was that it was one of the only programs that was completely centered for the human resources professional or managers making human resources decisions."
Welton-Crouser says the program's on-campus summer session with her cohort of classmates and the program faculty has been the most rewarding experience. During the remainder of the year, she completed online coursework any time it fit in her schedule.
"I have worked on my schoolwork at a coffee shop, I've done it on my phone in the car between picking up my kids or dropping them off at daycare and heading to a client's office," she said. "Coming to campus for the summer sessions is pivotal in setting distance students up for success. Having those established connections made the distance coursework more rewarding and valuable. When interacting with my classmates, I already knew who I was talking to, which made online communication more fluid."
While in the second year of her program, Welton-Crouser accepted a position with a client and former employer, helping her go further in her career path and delve deeper into the data and statistical side of the profession. She wants to use the organizational and performance data to statistically evaluate and analyze the success of her selection, training, performance program and HR practices. Welton-Crouser says this effort could positively impact both individual and organizational performance and stems from what she learned in her coursework.
Welton-Crouser plans to participate in K-State's on-campus fall commencement ceremony with her family.
"Graduation is both a bittersweet moment and the completion of a long-term life goal I had set for myself," she said. "While obtaining my master's degree with a young family was one of the most challenging endeavors I've taken on, it was also one of the most rewarding. My advice to anyone considering a return to school who is hesitant is to embrace the need you have to learn and develop yourself. It will pay off in ways you never imagined, and you will be so happy that you did."
View a list of all K-State Global Campus graduates or post them a congratulatory message through the K-State Global Campus Virtual Commencement website.