December 11, 2015
Finance student Minh Mac receives College of Business Administration's Outstanding Senior Award
Submitted by Brent Fritzemeier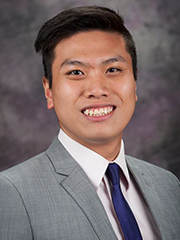 Minh Mac, a December 2015 bachelor's graduate in finance from Hanoi, Vietnam, is the Kansas State University College of Business Administration's Outstanding Senior in Business for fall 2015.
The award is presented each semester to a graduating senior who has made notable contributions to the college.
While an undergraduate, Mac has been an excellent student scholar who is actively involved in the life of the college. His passions include social entrepreneurship and photography, and he is involved in causes that alleviate poverty and that promote education and gender equality.
As a student leader, Mac has been a dedicated member and Information Technology Chair of the Student Finance Association and a student investment assistant to the Kansas State University Foundation. He also is the founder and first president of the K-State National Society of Leadership and Success. During his tenure as president of this organization, he recruited 437 members in two semesters and managed an executive board of 12 people.
Throughout his undergraduate career, Mac served the college in many ways. He was a student consultant to the college's Launch-A-Business Program, where he collaborated with 10 MBA/undergraduate students to consult with two startups. Mac has been the recipient of numerous achievements and awards while at K-State, including the von Waaden Investment Management Scholarship for outstanding performance in finance courses, the Golden Diversity Scholarship in recognition of his high level of involvement in intercultural activities on campus, membership in Phi Theta Kappa Honor Society, and the K-State Honors Program.
"Everyone at K-State is so willing to go out of their way to help each other out, and that to me is what makes this place special," Mac said. "The faculty and staff in the college truly care about student success."
Following graduation, Mac plans to have a career as a management consultant or investment manager, either here in the United States or abroad.