December 7, 2015
Entomology professor named distinguished alumnus by alma mater
Submitted by Communications and Marketing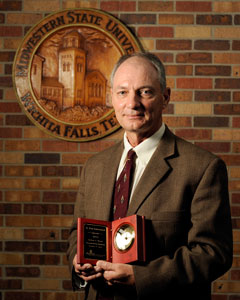 Gregory Zolnerowich, professor of entomology, was recently named the Arthur F. Beyer Distinguished Alumnus by his alma mater, Midwestern State University in Wichita Falls, Texas.
Zolnerowich serves as curator at Kansas State University's Museum of Entomological and Prairie Arthropod Research, which contains approximately 365,000 insect and arthropod specimens.
He is a member of the Entomological Society of America and the International Society of Hymenopterists. As a member of Friends of the Kaw, he works to protect and preserve the Kansas River. He also served on the board of directors for the Friends of Konza Prairie.
The K-State College of Agriculture Alumni Association named Zolnerowich the David J. Mugler Outstanding Teacher in 2013. He also received the Presidential Award for Excellence in Undergraduate Teaching in 2012.
Zolnerowich earned his bachelor's and master's degrees in biology from Midwestern State University and a doctorate in entomology from Texas A&M University.