December 1, 2015
Treat yourself to 'The PHD Movie 2'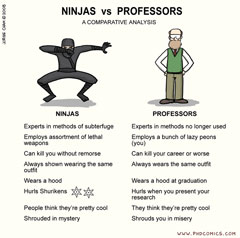 Dear faculty, graduate students and postdocs,
Don't miss a chance to laugh at graduate education and academic life — with free snacks and stress relief! Yes, I said FREE SNACKS at 6 p.m. Dec. 4 in 1107 Fiedler Hall. Note that we will be observing good snack eating habits so we are invited back.
In preparation for the event, faculty members please ponder the following: Are you a ninja or a professor? Refer to the comic to find out for sure. After enjoying the humor, make plans to attend "The PHD Movie 2" with your graduate students and postdocs. Faculty and students, you will recognize and laugh at versions of yourselves on the big screen. I attended the original "PHD Movie" with my students, who kindly pointed out the many other representations of my quirky faculty habits and attitude that were portrayed. I admit I am readily identified, in the original movie, as the professor who believes equipment he used as a graduate student — which likely wasn't current even then — is state of the art and wonders why his students are not as appreciative of the technology. I'm sure viewers will recognize themselves in the sequel.
So take a research, scholarly and creative activities and discovery break and join us on Dec. 4 for an evening of laughter. Students, don't wait for an invitation — invite your advisors to join you. My sincere thanks to the Graduate Student Council for partnering with us, the Office of the Vice President for Research, to host this fun event.
RSVP by this Thursday, Dec. 3 to ensure sufficient snacks for all.
See you at the movies!
Best,
Karen JL Burg