February 16, 2012
Third annual yOUR Campaign kicks off to highlight student engagement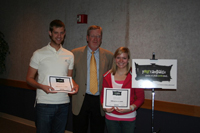 The third annual yOUR Campaign will take place at 12:30 p.m. April 26 in Room 212 at the K-State Student Union. yOUR Campaign is sponsored by the Center for Engagement and Community Development. This year's campaign will be a part of the center's 2012 Engagement Symposium, "A Day of Learning: Communities Engaging Landscape."
yOUR Campaign is open for all students to apply who are engaging through campus-community partnerships. Engagement can be defined as collaborative partners working together to address a public need in a way that is both reciprocal and mutually beneficial. Students that are demonstrating engagement are encouraged to submit a short 2-3 minute video showing their engagement partnership and how it benefits the community.
"Through this campaign, I hope to increase awareness and understanding of what engagement is and how easy it is for students to become engaged in the community," said Amanda Meinhardt, student campaign leader.
The Center for Engagement and Community Development will choose the winning video submission and invite the winning students to the engagement symposium for a viewing of their video and will receive a certificate. In addition, the video will be shown to K-State faculty and staff, and community members.
For more information on yOUR Campaign, visit www.k-state.edu/cecd and check out the booth on the main floor of the K-State Student Union during the two weeks leading up to the campaign.