November 4, 2015
Muslim Students Association open house
Submitted by Md. Imranul Islam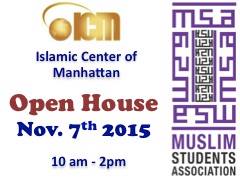 The Muslim Students Association, an official student organization, is hosting its annual open house from 10 a.m. to 2 p.m. Saturday, Nov. 7, at the Islamic Center of Manhattan, 1224 Hylton Heights. No RSVP is required.
This event provides an opportunity to all students, faculty and staff at K-State to better understand their Muslim neighbors, the Islamic Center and Islam culture.
This year's open house presentation theme is "Social Values of Five Pillars of Islam." The five pillars of Islam are declaring faith in Islam, prayer, fasting, pilgrimage and charity. The five-pillars are recognized as important focuses of Islam. Complementing the theme of the open house, two additional topics, "Diversity in Islamic World" and "Hijab and Muslim Women," will be presented this year followed by discussion and Q-and-A sessions.
The Muslim Students Association invites all to a tour at the Islamic Center, observe how Muslims worship, ask and discuss questions about Islam, hand paint with henna, and enjoy delicacies from diverse Islamic cultures. The Muslim community in Manhattan is eagerly looking forward to your presence to make this event successful. Please bring your family and friends.