October 29, 2015
Poet Natalie Diaz to read from her work on Friday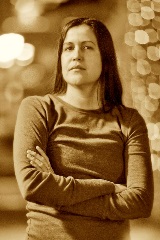 On Friday, Oct. 30, poet Natalie Diaz will read from her work at 3:30 p.m. in the K-State Student Union's Little Theatre.
Diaz is the author of the poetry collection "When My Brother Was an Aztec." She has received the Bread Loaf Louis Untermeyer Scholarship in Poetry and the Narrative Prize.
An athlete as well as an artist, Diaz played professional basketball in Europe and Asia after earning her Bachelor of Arts from Old Dominion University, where she received a full athletic scholarship. She returned to Old Dominion for her Master of Fine Arts. She currently lives in Mohave Valley, Arizona, and directs a language revitalization program at Fort Mojave, her home reservation.
Lisa Tatonetti, professor of English in Native American literature and culture, is teaching Diaz's poetry in her course this semester.
"Diaz's work is spellbinding," Tatonetti said. "By turns provocative and funny, tender and angry, her narrator takes the reader along for an unforgettable ride. In a class where I'm teaching some of the best works in contemporary U.S. literature, 'When My Brother Was an Aztec' is hands down the class favorite. My students and I could not be more excited to have the chance to see her read this Friday."
Diaz's reading is sponsored by the English department. The event is free and open to the public. A book signing will follow the reading.