October 23, 2015
Marathon reading of Dante's epic poem 'Divine Comedy'
Submitted by Anthony Nussmeier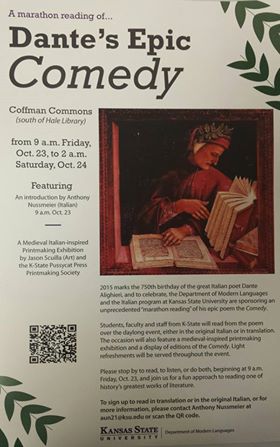 In honor of the medieval Italian poet Dante's 750th birthday, the modern languages department and the Italian program at K-State are organizing a marathon reading of his epic poem the "Divine Comedy." The reading will start at 9 a.m. Friday, Oct. 23, and last until around 2 a.m. Saturday, Oct. 24, in the Coffman Commons, between Eisenhower and the Hale Library — rain or shine because we have a tent.
The day's events will begin with an introduction by Anthony Nussmeier, professor of Italian, and the marathon reading will commence at 9:20 a.m. The occasion also will feature a medieval-inspired art exhibit by Jason Scuilla, associate professor of art, and the K-State Pussycat Printmaking Society. Light refreshments will be served throughout day and night.
More than 60 students, faculty, staff and community members have signed up to read a canto from the poem, but readers are still being sought. Interested readers can sign up directly on the Google doc spreadsheet, or by emailing Anthony Nussmeier at aun21@k-state.edu. If you are interested in reading, listening or both, stop by Coffman Commons between 9 a.m and 2 a.m. to participate in the reading of the world's greatest work of literature.