October 23, 2015
Public lecture about Spanish Gen. Francisco Franco
Submitted by Pablo Martínez Diente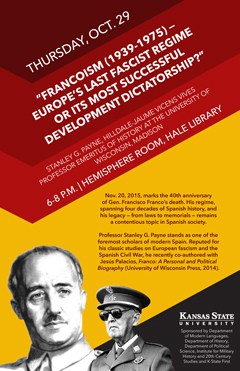 Stanley G. Payne, Hilldale-Jaume Vicens Vives professor emeritus of history at the University of Wisconsin, Madison, will present "Francoism (1939-1975) — Europe's Last Fascist Regime or it Most Successful Development Dictatorship?" from 6-8 p.m. Thursday, Oct. 29, in the Hemisphere Room in Hale Library.
Nov. 20 marks the 40th anniversary of Gen. Francisco Franco's death. His regime, spanning four decades of Spanish history, and his legacy from laws to memorials remains a contentious topic in Spanish society.
Payne is one of the foremost scholars of modern Spain. Reputed for his classic studies on European fascism and the Spanish Civil War, he recently co-authored with Jesús Palacios, "Franco: A Personal and Political Biography" published by University of Wisconsin Press, 2014.