October 20, 2015
Talk by award-winning children's author, illustrator Christopher Myers on Thursday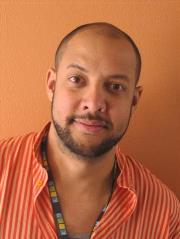 On Thursday, Oct. 22, award-winning children's author and illustrator Christopher Myers will speak about creative work and diversity in children's literature at 4 p.m. in the Purple Pride Room of the Alumni Center.
Myers's talk is "Please Don't Agree with Me: The Need for Disagreement in Debates about Literature for Young People." It is free and open to the public.
Myers is the author and illustrator of Caldecott honoree "Harlem" and Coretta Scott King Award honorees "Black Cat" and "H.o.r.s.e: A Game of Basketball and Imagination." Myers has also won three Boston Globe-Horn Book honors and a New York Times Best Illustrated Award. He is a graduate of Brown University and the Whitney Museum of Art Independent Studio Program.
In addition to writing and illustrating his own stories, Myers often illustrates books written by his father, award-winning author Walter Dean Myers. Their collaborations also included side-by-side columns for the New York Times in March 2014 on the lack of diversity in literature for young readers: one written by Myers on "The Apartheid of Children's Literature" and one by his father on "Where Are the People of Color in Children's Books?."
Philip Nel, university distinguished professor of English, values the creative range, talent and cultural insight that Meyers brings to his work.
"In the 20 or so books Meyers has illustrated about half of which he also wrote, he's a versatile artist, working with photos, gouache, woodcuts, collage and other artistic media," Nel said. "But Myers also has also co-directed the documentary film, 'Am I Going Too Fast?' — which premiered at Sundance last year. He has designed clothes. He writes powerful essays — notably, 'Young Dreamers,' an eloquent reflection on Trayvon Martin and Ezra Jack Keats' 'The Snowy Day,' and, most famously, the much-discussed, 'The Apartheid of Children's Literature,' which ran in the New York Times last year.
Myers's talk is sponsored by the English department, the Children's and Adolescent Literature Community, and SGA's Diversity Programming Council. Students enrolled in the College of Education can receive one hour toward Service to the Profession: Professional Growth.
More information about Myers's work is available at at his author page at Scholastic Books.