October 14, 2015
Coach Weber to Host Hoop Scoop for Women event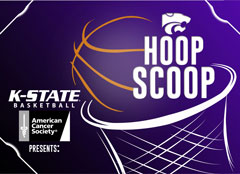 K-State head basketball coach Bruce Weber and his coaching staff will host their second Hoop Scoop for Women event from 10 a.m. to 2 p.m. Saturday, Nov. 7, at the Ice Family Basketball Center.
The clinic will give attendees an exclusive look at the ins-and-outs of the men's basketball program, as well as provide personal interaction with members of the coaching staff. An auction, lunch in the West Stadium Center and an invitation to watch practice are included.
The cost is $50 per person, with all of the proceeds benefiting the American Cancer Society. It is recommended that participants dress casually with athletic shirts, shorts and sneakers.
For more information on the clinic, please contact Stephanie Weiter at the American Cancer Society, 785-273-4662 or stephanie.weither@cancer.org. Attendees can register online at www.cvchoopscoop.org.