February 13, 2012
A letter from Athletics Director John Currie - Feb. 10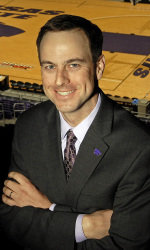 Good Day K-State Fans,
It's been a busy week for the Wildcats! Personally I've made good use of our five daily American Airlines flights into MHK as I have been on the road quite a bit. On Monday morning I caught the 6:30 a.m. flight through Dallas and headed out west to spend some time with many of our Colbert Hills "Founders." We are grateful for the vision of those who conceived and built our outstanding "home" course, which is not only one of the finest intercollegiate golf facilities in the country but as an "open-to-the-public" course and dining clubhouse is also a tremendous asset for our entire university and Manhattan community.
Click here
for all the latest information on Colbert Hills.
Tuesday morning the wake-up call came early to enable me to make it back to DFW for a lunch meeting with our media rights partner Learfield before catching the afternoon flight into MHK, just in time to pick up my family and head to Bramlage to see our win over Texas Tech. See below for a neat story about Texas Tech's Luke Adams that puts it all in perspective.
Wednesday featured a full morning of meetings before catching the 11:25 a.m. flight back to DFW for a day-and-a-half NCAA Administrative Cabinet meeting. As you may know I've served on this cabinet for two years now. It is made up of about 20 people representing schools and conferences across the NCAA Division I membership. Certainly it is very interesting to hear different perspective from FCS schools, FBS schools, non-football playing Division I schools, even those that don't award athletic scholarships like the Ivy League. The primary responsibility of this Cabinet is to consider and make committee assignments for the myriad NCAA sport and governance committees. Over the evening and following morning sessions we made appointments to over 40 committees, ranging from the relatively obscure (Division I Amateurism Fact-Finding Committee) to the prominent (NCAA Division I Men's Basketball Committee), and even a few that don't have much effect on me or K-State (Division I Water Polo Committee). In my role I represent the Big 12 and thus look to make sure we have representation on as many committees as possible. One of the things that becomes readily apparent even though governance of such a large and diverse membership organization is by definition challenging, the staff and membership representatives both are obviously trying to make decisions with the best interests of our student-athletes and universities in mind. Perhaps the most valuable aspect of participating on this committee is developing relationships and trust with other ADs, Faculty athletic representatives (FAR) and conference administrators around the country.

Fortunately the meeting ended in time for me to catch the Thursday afternoon American flight back into MHK and I was sure glad to be home! Here's some more updates from around the department including an update on our 2012 football schedule.

Busy Weekend Ahead
We have a full slate of action this weekend as our track and field teams are split between Ames, Iowa, and Fayetteville, Ark., our women's tennis team takes on Tulsa today and UT-Arlington tomorrow in Oklahoma, while Sarah Mershon of the equestrian team heads to Florida to compete in the College Equitation Challenge. Of course, both basketball teams are also in action as Coach Martin and the men's squad faces Texas at 1 p.m., tomorrow in an ESPN-televised matchup, while Coach Patterson and the women's squad hosts KU at 12 p.m. Sunday in a nationally-televised game by FSN. We currently lead the Jayhawks 4-1 in head-to-head Sunflower Series contests this academic year - please make a special effort to join us in Bramlage for the women's game on Sunday! Last Saturday was a tremendous environment as more than 25,000 total fans filled Bramlage for our men's and women's doubleheader. In fact, it was the first time in school history that both games of a doubleheader (ticketed separately) were sold out!

More than Basketball
I have said numerous times that I feel collectively we have as good a group of coaches as anyone in the country. The guidance they provide our student-athletes is outstanding and sets a national standard. Yesterday, Coach Martin displayed tremendous leadership in a letter to K-State students (click here). I am appreciative of the guidance that Coach Martin provides our basketball program and I am equally as proud of him for challenging not only himself, but all of our fans, to show true sportsmanship at our games. We certainly want Bramlage Coliseum, and all of our athletic venues, to be the loudest and most intimidating environment in the Big 12 but in a manner that is appropriate and demonstrates the values of Kansas State University. I appreciate the continued passion of our fans.

Kudos to Tech's Luke Adams
Too often in the heat of competitive athletics we overlook the character of the people who play the games and the obstacles they overcome to succeed. Texas Tech's Luke Adams is a special athlete whom I greatly admire. Luke, who suffers from a hearing impairment that requires him to wear cochlear implants, took time during the team's trip to Manhattan earlier this week to meet with young local Wildcat fan Brandt Carlgren, who experiences the same hearing issues. What a thrill for Brandt! (click here for a photo) This is a great example of Big 12 camaraderie and sportsmanship that is present all throughout our league institutions. By the way, Luke went out and led the Red Raiders with 15 points in the Cats' 65-46 win.

Services Set for Former Wildcat Great
The K-State family lost one of its former basketball stars earlier this week as Wamego native Lew Hitch, who was a member of the 1951 NCAA runner-up team, passed away. We would like to extend our sincere condolences to the Hitch family following their loss. The memorial service is set for Sunday, Feb. 12 from 1-3 p.m. at the Celebration Building located at 706 4th Street in Wamego.

2012 Football Schedule Update
Although our complete 2012 Big 12 football schedule is not finalized at the moment, I wanted to provide a quick update for our fans on what will be an exciting season ahead. For the second straight year we will have seven home games at Bill Snyder Family Stadium this fall, which is always one of our most important goals in scheduling. Our home non-conference slate is also complete and includes Missouri State, the Miami Hurricanes and North Texas. A full 2012 football ticket menu with prices, options, packages and dates for season ticket and single games will be available in the coming weeks at k-statesports.com as the remainder of our schedule is finalized. Ticket renewals will be sent in March, while fans interested in purchasing season tickets for the first time can be put on a contact list at any time by calling 800-221-CATS.

That will do it for today. Good luck to all the K-State student athletes competing this weekend and also good luck to SID student assistant and Manhattan Dillons employee Ricardo Cruz, who will be competing for the National Grocers Association Bagging Championship Monday in Las Vegas. Click here to read Mark Janssen's story on Ricardo's path to nationals.

We will see you Sunday afternoon for the Dillons Sunflower Showdown and don't forget to make plans today to be back in Bill Snyder Family Stadium in 2012!

Go Cats!!
John Currie