October 12, 2015
K-State to open new Southeast Research and Extension Center in Parsons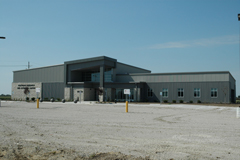 Kansas State University welcomes the public to the grand opening of its new Southeast Research and Extension Center in Parsons, Kansas from 9:30 a.m. to noon Thursday, Nov. 5.
The building at 25092 Ness Road — corner of 32nd Street/Ness Road and 400 Highway — will be a new home for K-State Southeast Agricultural Research and Southeast Area Extension faculty. This building creates the opportunity to bring together the researchers who had been located in Parsons with extension specialists previously located in Chanute.
Through its research projects and educational programs across Kansas, K-State Research and Extension is focused on strengthening global food systems, water resources, human health, youth development and community vitality.
"This building enhances the capacity of our extension and research faculty in the discovery and application of research-based information important to the people across this region of Kansas," said John Floros, dean of K-State's College of Agriculture and director of K-State Research and Extension. "With this new facility, we will also be able to bring 21st century information technology to southeast Kansas through the new conference center."
Floros will speak at the beginning of a brief ceremony at 10 a.m. Tours of the center and refreshments will be available following the ceremony.
The 13,289-square-foot building's main conference room can accommodate 175 people with state-of-the-art audio-visual equipment. The room can be divided into smaller meeting rooms, and a catering kitchen is available for conferences and workshops.
The building has 10 offices for faculty and an open common area for support staff, as well as another small conference room.
A laboratory in the new building will support agricultural research programs, said Lyle Lomas, K-State professor and head of the Southeast Agricultural Research Center.
"This is a modern, state-of-the-art facility that will enhance agricultural research programs in southeastern Kansas and employ the latest technology to deliver up-to-date science-based information to our southeast Kansas clientele," Lomas said.
"This building with its distinctive styling, conferencing ability and communications and technology capabilities provides a unique Kansas State University presence in southeast Kansas," said J.D. McNutt, K-State Research and Extension southeast area director.
The building was funded through a variety of sources pooled together over the past several years.
"This new conference center is designed to enhance research as well as educational outreach to the community," said K-State Research and Extension associate director Daryl Buchholz. "There is nothing like it in southeast Kansas for conferences and workshops brought by Kansas State University."
Kansas State University's new K-State Southeast Research and Extension Center in Parsons will be home to extension specialists who provide educational, science-based programs related to human health and nutrition, youth development, personal finance, crop and livestock production, and more.
Also based at the center will be researchers focused on crop production, forage, soil and water management and beef production.
Through classes, workshops, field days, newsletters and other outreach, extension specialists and researchers bring information derived from research at K-State and other land-grant universities to individuals, families, farmers and other businesses.
More information about the Southeast K-State Research and Extension Center is available by calling 620-421-4826.