October 1, 2015
K-State Alumni Association names former football captain grand marshal for homecoming parade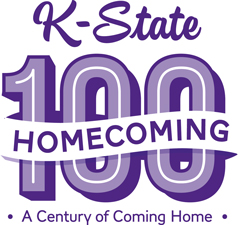 Russell Hardin, a 1946 Kansas State University graduate and 1945 football captain, will serve as grand marshal for the 2015 homecoming parade. The parade serves as a gathering point for K-State students, friends and the Manhattan community during All-University Homecoming week.
"We didn't win many games, but we made friends and memories," Hardin said in the spring 2013 issue of the K-Stater magazine on his football experiences.
K-State was often undermanned against their opponents, but always played hard. In the 1945 game against Oklahoma, the Wildcats jumped out to a 13-0 lead. But the highly ranked Sooners wore down the squad in a 41-13 win.
After graduating, Hardin returned to his native Indiana where he practiced veterinary medicine for 37 years. Hardin is a member of the Golden Cats, a club for former football players and is one of the oldest living members of the team.
The 2015 homecoming parade will start at 5 p.m. Oct. 16. This year's homecoming theme is A Century of Coming Home to mark K-State's 100th homecoming celebration. The parade will feature floats depicting throwbacks to some of K-State's history and several of K-State's former homecoming queens.
"The parade gives K-State students the opportunity to show off their school spirit through homecoming-themed floats, which will journey throughout downtown Manhattan and Aggieville," said Amanda Lee, assistant director of student programs for the K-State Alumni Association.
Prior to the parade, the Aggieville Business Association will host trick-or-treating in Aggieville beginning at 3:30 p.m. A pep rally will take place at the Larry Norvell Band Shell in City Park following the parade at approximately 6:30 p.m.
If you have questions regarding the parade, please contact Lee at alee@k-state.com or 785-532-5056.