April 22, 2015
Get a free scoop of Call Hall ice cream today at the K-State summer event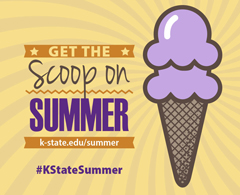 Need to cool off between classes? Visit the K-State summer booth today outside the Call Hall Dairy Bar from 2-4 p.m. Tell us how you're spending your K-State summer and you'll receive a coupon for a free scoop of Call Hall ice cream.
Join Willie the Wildcat at the Dairy Bar until 3 p.m. Make your summer count by finding out how you can mix and match classes with jobs, internships and other experiences to create your custom K-State summer.
Visit the summer website for more information on K-State summer course options and upcoming K-State summer events.