April 14, 2015
K-State Advertising Club Presents 'Brand Yourself' educational seminar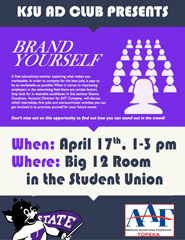 The K-State Advertising Club will host Shanna Goodman, the account director for JNT Company, during the educational seminar "Brand Yourself" from 1-3 p.m. April 17 in the Big 12 Room in the K-State Student Union.
Learn about what you can be doing outside the classroom to set yourself apart from others in the advertising and marketing professions. This event is tailored to advertising, public relations, marketing and English students, but all are welcome to attend this free event. Join us for a presentation, discussion, and Q-and-A session.
Please contact Kathryn Silva at katsilva@k-state.edu if you have any questions.