October 30, 2014
K-State Recreational Services Instagram photo contest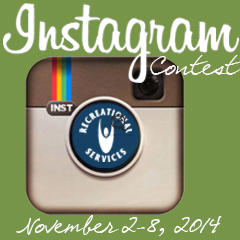 Participate in the K-State Recreational Services Instagram Contest, Nov. 2-8. Take a photo, be creative and follow the daily themes:
Sunday, Nov. 2: Lifting
Monday, Nov. 3: Outside recreation
Tuesday, Nov. 4: Mind and body
Wednesday, Nov. 5: Adventure
Thursday, Nov. 6: Sports
Friday, Nov. 7: Fitness with a friend
Saturday, Nov. 8: Active Wildcat
Upload the photo to Instagram or Twitter and enter by using the tags #ActiveWildcat and @KStateRec.
There will be daily prizes — free smoothies from Quik Cats Cliffside — and a grand prize — a fitness prize package. Winning photos will be posted on Recreational Services Facebook page. For more details visit our website.