October 30, 2014
Geography alumnus to receive award, present lecture on marine conservation Oct. 31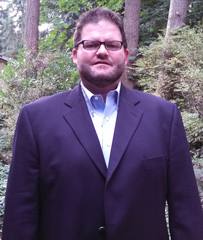 K-State alumnus John Guinotte, a marine biogeographer and the director of the Ocean Acidification Program with the Marine Conservation Institute, will return to his alma mater to receive the Outstanding Alumnus Award from the geography department in the College of Arts & Sciences. Preceding the awards presentation, Guinotte will deliver the speech "Marine Conservation in U.S. Waters and the High Seas: Successes, Challenges, and the Role of Geographers."
The event will be from 2:45-3:45 p.m. Friday, Oct. 31, in the Big 12 Room of the K-State Student Union and is open to the entire campus to attend.
"I am delighted and humbled to return to K-State after so many years to receive the Outstanding Alumnus Award," Guinotte said. "The geography department gave me the tools I needed to pursue my passion, something for which I will always be grateful."
"The college is excited to have John back on campus," said Peter Dorhout, dean of the College of Arts & Sciences. "We strive to provide students the academic foundation that enables them to go into the world and make a difference, to solve global challenges."
Guinotte earned his bachelor's degree and master's degree from K-State in geography in 1996 and 1999, respectively. In his current position, he manages and coordinates all spatial analysis applications, modeling and conservation mapping initiatives across Marine Conservation Institute programs, including marine protected areas, high seas conservation and ocean acidification. He conducts primary and applied research on climate change related threats to a variety of aspects, including marine ecosystems, seamounts and commercial fishing activity.
"The department always looks forward to the return of the distinguished alumna or alumnus in the fall of each year," said Charles Martin, head of the K-State geography department. "Although we have followed John's outstanding career closely since he left Manhattan, it will be exciting to hear firsthand about the important work he has done since graduating. In addition, his visit will show our current students that a degree in geography, coupled with hard work, energy and passion, can take one in unexpected and fulfilling directions."
Guinotte will address the importance of geography and marine geography as it relates to the environmental issues of today.
"The oceans and the life they harbor are critical to the health of our planet," Guinotte said. "They regulate our climate and are responsible for half the oxygen we breathe. Yet less than 1 percent of the oceans are fully protected. The future of the oceans is relevant to everyone, no matter how far one lives from them."