February 19, 2014
K-State releases new wheat variety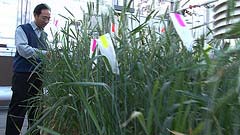 K-State's Agricultural Research Center in Hays released a new red winter wheat variety, which has shown in test trials to have a high yield and other numerous benefits.
Guorong Zhang is a wheat breeder whose research focuses on trying to improve the wheat crop by developing new varieties with adaptation to western Kansas, including the latest new variety — a hard red winter wheat named KS09H19-2-3, or Oakley CL.
Development of Oakley CL began in 2002, and in late 2013, K-State's Agricultural Research Center released it. Its registered and certified seed is expected to become available in 2015, while test plots will continue to be analyzed in 2014. Zhang said Oakley CL came from a three-way cross, so it has three parents that contribute to its high yield potential, beyond herbicide tolerance, drought tolerance, disease resistance, and good quality for milling and baking. It also has good straw strength and grain shattering resistance to combat high winds in western Kansas, and it has good resistance to preharvest sprouting.
More information is available at K-State Research and Extension.