February 19, 2014
'Teatime to Tailgates' tasting event Feb. 25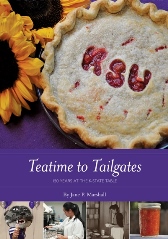 Jane Marshall will present "Tasting History, Tasting Memories" at 5:30 p.m. Tuesday, Feb. 25, in Hale Library's Hemisphere Room.
This interactive program will take you on a journey of the senses as Marshall presents 150 years of food in Kansas and at K-State. Wine and beer will be served alongside delicious samples from her book, "Teatime to Tailgates."
"Food on the table at K-State, and in the state of Kansas, is a wonderful convergence of geography, culture and science. Plus a lot of smart, gritty individuals — those who drive the combines, those who run the kitchens and those in the classrooms and labs — all with food stories to tell," Marshall said.
The program will not only discuss the history behind the selected tastings, but also will explore how food becomes a part of our memories. The tasting menu will include:
First pioneers: Hard tack
Early days of K-State: Aggieville Gingerbread
Dining out in the student union: Merna Zeigler's hot chicken salad
The memories: Boyd Hall Buttermilk Brownies
Guests are also invited to view the new exhibit from the Morse department of special collections, "Kansas Cooks." K-State's cookery collection is the largest collection of its kind held at a public university with more than 37,000 volumes dating from 1487 to the present, as well as the personal collections of prominent food writers. This exhibit documents the first gift of rare cookbooks to K-State Libraries in 1943 through the present.
Cost to attend the event is free with a 2014 membership to The Friends of the K-State Libraries. Membership can be paid at the door, but RSVPs are requested by Friday, Feb. 21, to libfrnds@k-state.edu or 785-532-7402.
The Friends of K-State Libraries provide support for K-State Libraries to expand their holdings and improve their facilities while advocating for a strong library system to support the university.