February 18, 2014
University Life Cafe art contest winners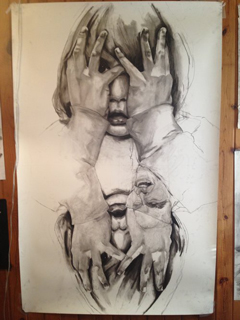 University Life Café has announced the winners of the sixth annual University Life Café art contest. Fifty pieces accepted into the gallery show this year, and six pieces were given top honors.
The following are the top pieces:
First place: "Here's Johnny" by Gabrielle DeFonso
Second place: "Wreath" by Alec Webb
Third place: "Pug Beams" by Alec Webb
Honorable mentions:
"Grain Bins" by Jason Waite
"Winter Watcher" by Maia Carlson
People's choice:
"Broken Mannequin" by Elizabeth Decker
The artwork from the contest was on display in the Kemper Art Gallery from Jan. 29 through Feb. 14. If you were unable to make it to the gallery showing, you can still see the pieces by visiting University Life Café.