February 18, 2014
Art, agriculture meet for upcoming lecture on Kansas wind farming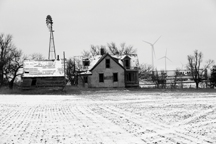 Lisa Cartwright and Steven Rubin will speak on "Infrastructures of Power: New Topographies of Wind in Kansas" from 4-5 p.m. Friday, Feb. 21, at the K-State Alumni Center. It is free and open to the public.
The lecture draws on a multiyear sensory ethnography by Cartwright and Rubin. Since 2009, they have been documenting the everyday work experience and interaction between humans and technology in farming and ranching life in Kansas communities where wind is harvested like a crop alongside grain. They turn to landscape photography to capture these dynamics between the energy industry and agriculture, between wind-rich and wind-poor towns, and between farmhands and wind technicians who learn how to share the field.
Cartwright and Rubin's interdisciplinary presentation is part of the 23rd annual Cultural Studies Symposium, hosted by the English department. Co-sponsors include the department's program in cultural studies, the colleges of Agriculture and Engineering, and the offices of the president and provost.
"Through their enthographic research, Cartwright and Rubin connect the disciplines of media studies, philosophy, anthropology, sociology, political science, geography, science studies, agriculture and economics, " said Don Hedrick, professor of English and director of the program in cultural studies. "They help us understand new boundaries and shared spaces and the symbolic meanings attached both to the wind and to Kansas itself."

Cartwright is professor of communication and science studies at the University of California, San Diego, where she also is on the faculty of the program in critical gender studies. She works across film, media and visual studies; gender and sexuality studies; science and technology studies; and disability studies. Her most recent book is "Moral Spectatorship: Technologies of Voice and Affect in Postwar Representations of the Child" published by Duke University Press in 2008. She is co-author with Marita Sturken of "Practices of Looking: An Introduction to Visual Culture" published by Oxford University Press in 2008. She is the author of "Screening the Body: Tracing Medicine's Visual Culture" published by University of Minnesota Press in 1995. With Paula Treichler and Constance Penley, she co-edited the volume "The Visible Woman: Imaging Technologies, Gender and Science" published NYU Press in 1998.

Rubin, assistant professor of art in the photography program at Penn State University, worked for many years as a photojournalist and documentary photographer, traveling on assignment in Iraq, Rwanda, Kosovo, Pakistan, Turkey, Chile and Cuba, and throughout the United States. His photographs have been published in magazines, including The New York Times Magazine, National Geographic, Time, Newsweek, Focus, L'Express, and The London Independent Magazine, as well as numerous books including "The Century" published by Phaidon. He is the recipient of the Leica Medal of Excellence, a New York Foundation for the Arts Fellowship, a Nieman Fellowship at Harvard, and an Alicia Patterson Journalism Fellowship. He was a fellow with the Open Society Institute, which supported his photographic investigation of the U.S. government's detention of immigrants, and funded his development of Healing Images, a program providing digital cameras, instruction and therapy to survivors of torture.