February 17, 2014
K-State Salina flight instructor renews Master Certificated Flight Instructor accreditation for the sixth time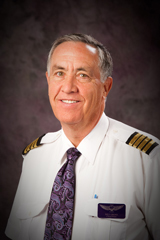 Kansas State University Salina aviation professor Bill Gross has again earned his Master Certificated Flight Instructor accreditation, making him one of only 36 worldwide to receive the credential six times. Gross scored his first accreditation in 2003 and has successfully renewed it every two years since then.
Growing up on a farm in western Kansas led Gross down the career path of pursuing an animal science and ag education degree at K-State in Manhattan. But Gross just couldn't forget his childhood days of accompanying his best friend's father up in his plane. After teaching high school vocational agriculture for a few years, Gross spoke with his wife and decided to get his private flying license.
Gross has been a professor with K-State Salina since fall 1987 when it was called the Kansas Technical Institute and then briefly the Kansas College of Technology. Currently, he is the chief flight instructor, teaching two classes a week and he flies transportation for the university.
"I have the best view out my office window," Gross said. "I can't imagine doing anything else for a living. And I enjoy watching each student grow and mature as they go through the program — I see a little bit of myself in them."
Gross' accreditation was renewed by Master Instructors LLC. He is one of nine Kansas State University faculty to have the prestigious title.