January 31, 2014
Study abroad opportunity in Paris available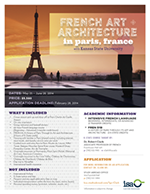 Attention: All students interested in learning French!
Don't miss this opportunity to study abroad in Paris, immerse yourself in the French culture and learn French from one of K-State's very own — Robert Clark. It doesn't matter if you have never taken a course in French before or if you are fluent; there are beginner, intermediate and advanced courses offered in this May 25-June 28 study abroad opportunity.
For more information or an application contact Clark or the study abroad office in Fairchild Hall at 785-532-5990.