November 22, 2013
Regional and community planning students participate in annual learning event with charitable twist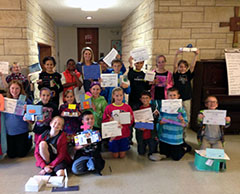 The K-State Student Planning Association hosted its annual BOXhattan event on Oct. 22, working with 44 fifth-graders from Woodrow Wilson Elementary at the First Lutheran Church of Manhattan.
To thank the church for letting them use its facilities, the association and the fifth-graders collected nonperishable food items for the First Lutheran Food Pantry. The group donated 166 items to the pantry, which were delivered Nov. 20.
BOXhattan began in 2011 and is hosted once a semester. In the fall, the chapter works with fifth-graders at Woodrow Wilson. The event was created as a way for Student Planning Association members to teach the principles of planning, community involvement and urban design to elementary students.
"I have continued participating in BOXhattan because I felt it was beneficial for the student's knowledge of their community and what planning is essential for a working community," said Molly Emert, fifth-grade teacher at Woodrow Wilson Elementary.
The chapter takes the students through a multistep process that mirrors real-life planning scenarios. BOXhattan allows the children to plan their own city using boxes of various sizes. The children have to apply for "building permits" and have their building "approved" by a Student Planning Association member.
"My students enjoy the building creative aspect of BOXhattan and the fact that they have to explain and reason with a community planner when wanting to place their box on the grid," Emert said.
Once buildings are complete, there is one final group discussion about the finished city and what the children think of it. This gives students a chance to use the knowledge they've just learned to discuss what makes a city, and what choices can make it better for all.
"My favorite part about BOXhattan is seeing the fresh perspective on city planning that children bring," said James Wood, president of the Student Planning Association. "We're used to seeing it from an academic, social and political perspective as adults, so it's nice to see how kids view and plan their cities."
"BOXhattan is a wonderful participatory event for these children, as it helps them to understand that cities are acts of will, not just happenstance," said Tim de Noble, dean of the College of Architecture, Planning & Design. "I am so pleased our regional and community planning students have devised this outreach opportunity."