November 22, 2013
McHaney, Spire and Boggs publish chapter in book edited by Hai-Jew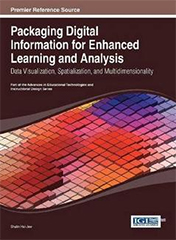 Roger McHaney, professor of management information systems; Lynda Spire, assistant dean, Division of Continuing Education; and Rosemary Boggs, program coordinator, Division of Continuing Education, recently published a chapter in "Packaging Digital Information for Enhanced Learning and Analysis: Data Visualization, Spatialization, and Multidimensionality."
The book is part of the Advances in Educational Technologies and Instructional Design series and was edited by Shalin Hai-Jew, an instructional designer for the Informational Technology Assistance Center.
The chapter, E-LearningFacultyModules.org, is an example of how faculty training can be packaged in a wiki format to allow self-paced professional development for instructors who are moving to an online teaching format. The wiki described in the chapter was developed by a team of Kansas State University faculty and staff who are interested in helping distance instructors create and teach quality distance courses. The wiki is customized for teaching in the Kansas State University distance learning program but contains a broad set of information that can be useful to others. The attributes of this wiki create an ideal venue for sharing ideas and encouraging synergistic improvement of teaching practices.
The book's target audience is those in higher education and K–12 education environments. The chapter was double-blind peer-reviewed.
The book is available in the Hale Library stacks, QA76.9.I52 P33 2014, and can also be found on the K-State Research Exchange.