November 19, 2013
FIJIs fighting for Sydney on Nov. 21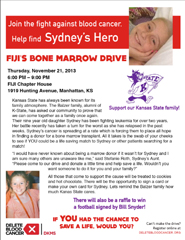 Members of the Balzer family, alumni of Kansas State University, ask for your support. Their 9-year-old daughter, Sydney, has relapsed in her fight against leukemia, first diagnosed when she was 7 years old. With intense cancer treatments, Sydney is only being allowed to go through one more round of chemo or face the immense obstacle of finding a bone marrow donor. The Balzers are now reaching out to the K-State family in desperate need.
To support Sydney in her fight, a donor search will take place from 6-9 p.m. Thursday at the Fiji house, 1919 Hunting Ave. We will have swab kits for individuals to register with Delete Blood Cancer, which can increase the odds of finding a donor match for Sydney. We will have a card-making table for everyone to show an outpouring of support and love for the Balzer family.
Donations also will be collected in support of Delete Blood Cancer, the nonprofit organization providing the swab kits. Snacks and refreshments will also be provided. We look forward to seeing everyone help support our K-State family.
Help us find Sydney's hero!