November 1, 2013
British percussionist Joby Burgess performs at K-State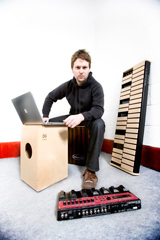 Genre-trashing British percussionist Joby Burgess will perform at 7:30 p.m. Thursday, Nov. 14, in McCain Auditorium's Kirmser Hall, Room 204. The concert is free and open to the public.
One of Britain's most diverse percussionists, Burgess is best known for his virtuosic, often lissom performances, daring collaborations, extensive education work and regularly appears throughout Europe, the U.S. and beyond.
Dedicated to the development of the percussion repertoire, often in combination with electronics, Burgess spends much of his time commissioning and recording new music with Powerplant, New Noise and ensemblebash. Recent highlights have included extensive tours with Peter Gabriel's New Blood Orchestra and Graham Fitkin's all-star band; releases of Gabriel Prokofiev's Import/Export on Nonclassical; and Frozen River Flows on Oboe Classics. Future plans include the premiere performances of Gabriel Prokofiev's Concerto for Bass Drum in the U.S. and U.K. in spring 2012.
Burgess regularly performs, records and collaborates with artists including Stewart Copeland, Stephen Deazley, Michael Finnissy, Graham Fitkin, Peter Gabriel, John Kenny, Akram Khan, Sarah Leonard, Joanna MacGregor, Peter Maxwell Davies, Nitin Sawhney, Andy Sheppard, Keith Tippett and Nana Vasconcelos, along with many of the world's leading chamber ensembles.
In 2004, Burgess was appointed professor of percussion and director of percussion ensembles at Junior Trinity College of Music, Greenwich. Burgess studied at the Guildhall School of Music & Drama, London.
For more information visit his website.