October 25, 2013
Letter from Athletics Director John Currie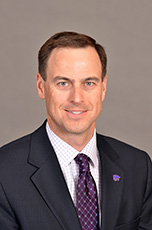 Good morning K-State Nation,
It's Homecoming week at K-State, and campus is already buzzing with activity as many of our 215,000 K-State friends and alumni from across the country return for an exciting weekend. I know Bill Snyder Family Stadium will be rocking Saturday at 2:45 p.m. with our 10th straight sellout and live national broadcast on FOX Sports 1, and that same energy will pack Ahearn Field House at 7:30 p.m. for our volleyball matchup with the Texas Longhorns which will also air live on K-StateHD.TV. Remember it's a "Wildcat Weekend" so you can bring your football game ticket to Ahearn for a $3 admission to the volleyball game. We also will be honoring and welcoming back our 2003 Big 12 Championship volleyball squad this weekend – they will be in Cat Town before Saturday's football game and will also be recognized during both football and volleyball contests.
Yesterday afternoon I headed to campus for the K-State 150th celebration grand finale on the Anderson lawn and then to the dedication of Mary and Carl Ice Hall in the K-State research park. Click here to read more about Mary and Carl and this important addition to our College of Human Ecology. Also, 27 K-State student-athletes are currently pursuing degrees in this college, and many more will do coursework in Human Ecology during their time in Manhattan.
Friday will be a full day of K-State progress starting with the groundbreaking ceremonies for the new $50 million College of Business building just off of Manhattan Avenue, followed by the groundbreaking for the K-State College of Engineering expansion project. After the traditional homecoming parade and pep rally which finishes in Aggieville we will be holding an open house at the new 9,000 square-foot Intercollegiate Rowing Center from 5:30-8 p.m., including a dedication ceremony at 6:30 p.m. I am extremely excited about the IRC. You may have seen the picture I tweeted of our six-time Olympic coach Pat Sweeney inside the facility earlier this week. As we strive toward our vision of a Model Intercollegiate Athletics Program , the Intercollegiate Rowing Center vividly demonstrates our determination to achieve the goal of a World-Class Student-Athlete Experience for each of our 16 teams. Our coaching staff has already moved in, and we expect our 90 rowing student-athletes to have full operational use of the facility very soon! We are excited about the future of K-State Rowing and know the IRC will help foster Championship Athletic Performances.
Following the rowing dedication, the doors to Bramlage will open at 8 p.m. for Madness in Manhattan with the program starting at approximately 8:30 p.m. Both Coach Weber and Coach Patterson have exciting returning players like Bri Craig and Shane Southwell, but both teams also feature intriguing newcomers and this will be your introduction to them. Fans will also be treated to a terrific program with a special unveiling honoring K-State's basketball heritage highlighting the evening. We'll have scrimmages, a dunk contest and skills competition by both teams. The event will also showcase special video presentations and performances by the K-State pep band, Willie Wildcat and the Classy Cats in addition to comments from selected men's and women's players. All these Friday events are open and free to the public. Please join us, as the season is upon us with exhibitions at Bramlage Coliseum beginning next week. The women host Washburn at 7 p.m., Monday, while a doubleheader on Friday will include the women facing Alaska-Anchorage at 5 p.m. and the men opening up with Pittsburg State at 8 p.m.
Student-Athletes Sample New Performance Table Meals at WSC
Over the last month we've been ramping up the new Student-Athlete Performance Table with a number of sample meals – a "soft opening" so to speak – and look forward to opening the performance table on a full regular dinner schedule next semester. Chef Mike and his staff are doing a fabulous job in preparing various food options for our student-athletes. We have also hosted several recruiting meals for prospective student-athletes from many sports prior to our football games – it is definitely a great facility to showcase K-State.
Earlier this month, our Student-Athlete Advisory Committee (SAAC) met in the West Stadium Center for its monthly meeting and to enjoy a sample meal. After dinner more than 100 or so student-athletes joined me in the West Stadium Club for an informal question-and-answer session about K-State Athletics. I think it is very important to educate our student-athletes on the intricacies of our operation – from explaining our revenues and expenses, to showing them how we are reinvesting back into our programs and student-athletes, to even quantifying the value of their athletic scholarship and the support provided to each student-athlete. Our student-athletes were engaged and asked some really good questions – we had great dialogue! At the end of the day, it is important for our staff, fans and even student-athletes to be reminded that our No. 1 priority is to provide all 438 of our student-athletes a world-class experience here at K-State.
New Hall of Fame Class Enjoys Induction Weekend
During the weekend of the Baylor game, we inducted 10 new members into the K-State Athletics Hall of Fame. I really enjoyed visiting with each inductee and their families as we continue to provide not only our current student-athletes a world-class experience but our former greats as well. The induction ceremony Friday night was a great event – click here to watch the video replay on K-StateHD.TV – as each inductee provided amazing testimonies about their experiences at K-State. The group had a full weekend with a reception Thursday night, media session Friday morning, the banquet Friday evening and a fan meet-and-greet in Cat Town on Saturday. I hope you were able to swing by and meet each of these great K-Staters!
Targeting Fouls and Player Safety a National Hot Topic
I would like to take a few moments to address the national topic of safety for our competing student-athletes, particularly in the sport of football. Unfortunately, those in attendance at the Baylor game witnessed a type of hit that all associated with the sport are working hard to eliminate. Although there wasn't a "targeting foul" called at the time of the play, I really appreciated how proactively Commissioner Bowlsby and his staff handled the situation after their review of the game film. Upon determining that a targeting foul should have been called, the Commissioner imposed a half-game suspension on the offending player for his next contest. In doing so Commissioner Bowlsby publicly demonstrated the Big 12's leadership position in player safety.
Facts About Concussion Management at K-State
The short- and long-term impact of concussions is also a hot national discussion. I believe institutions in general haven't done as good of a job as we should in getting the word out to the public that institutions like K-State are in fact on the leading edge of concussion management and care. Due to FERPA (Family Educational Rights and Privacy Act) and HIPAA (Health Insurance Portability and Accountability Act) laws we will not typically discuss in detail specific student-athlete injuries but here is an overview of our management policy.
First, our medical care team, made up of our terrific sports medicine staff and team physicians, meet annually to review and evaluate our policies and procedures. Our medical care team always has final say and autonomy to determine when a student-athlete can return to practice or competition. In fact, our official organizational reporting lines for our doctors and athletic trainers go to central athletics administration and me, even though these professionals all, of course, work very closely with our head coaches. This is one of the checks in place to eliminate even the slightest insinuation that a doctor or athletic trainer would be pressured to return an injured athlete to activity prematurely.
Every student-athlete, upon arrival on campus, goes through initial baseline testing, which includes both cognitive and postural-stability testing. Once a student-athlete sustains a head injury or shows signs/symptoms of a potential concussion, the following steps take place:
* Immediate removal from practice/competition.
* Assessment/evaluation is conducted by K-State's medical staff; if a concussion is suspected then the student-athlete is referred to the team physician for further evaluation.
* Upon diagnosis of a concussion, the student-athlete will undergo all cognitive and postural-stability testing identical to the baseline testing.
* Once the student-athlete is symptom-free and has met or exceeded all baseline testing, the return-to-play progression protocol may be initiated.
* No physical exertion activities may resume until medically cleared.
* If the student-athlete has any returning symptoms during the return-to-play progression, he/she must be re-assessed based on symptoms.
* Upon completion of the return-to-play progression, the student-athlete must be cleared by the team physician for full participation.
In addition, all student-athletes are held from all activities, including academic requirements, upon diagnosis of a concussion. Our coaches and support staffs do a tremendous job taking care of our student-athletes and keeping their health and best interests at the forefront of our operation.
That will do it for today. Good luck to women's golf in Las Vegas this weekend, and we look forward to a great Wildcat Weekend of rowing, basketball, football and volleyball here at home.
Go 'Cats!
John Currie