October 18, 2013
Geography alumnus to receive award, present lecture on conservation challenges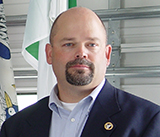 Jerry Holden Jr., director of conservation programs for Ducks Unlimited Co., will return to his alma mater on Friday, Oct. 25, to receive the Outstanding Alumnus Award from the geography department in the College of Arts and Sciences. Preceding the awards presentation, Holden will deliver the speech "Never waste a good crisis: Conservation challenges on America's third coast."
The event will be from 3:30-4:30 p.m. in the K-State Student Union's Little Theatre and is open to the campus.
"The college is excited to have Jerry back on campus," said Peter Dorhout, dean of the College of Arts and Sciences. "We strive to provide students the academic foundation that enables them to go into the world and make a difference, to solve global challenges."
Holden joined Ducks Unlimited after earning his bachelor's degree and master's degree in geography in 1996 and 1998, respectively. Holden also earned a secondary major in natural resources and environmental sciences. Since becoming director of conservation programs, he has played a significant role in implementing plans for the organization's conservation programs, leading restoration efforts for wetlands along the Louisiana Gulf Coast as part of the Wetland Reserve Program.
Holden said he is excited to return to his alma mater. "I want to show the students that you can make a difference if you try," he said. "You just have to aim for it."

"It's great to have Jerry back on campus to receive this prestigious award," said Charles Martin, head of the K-State geography department. "In his career since leaving K-State, he has combined his expertise in remote sensing with his love of the outdoors to make significant contributions to the preservation of waterfowl habitat. His presentation will provide a shining example to our current students that a geography degree can take one in unexpected, but professionally rewarding, directions."
Kent Babcock, senior director of conservation programs for Ducks Unlimited, said Holden is a good example of the quality students graduating from K-State and the geography department.
"Jerry has combined his education and training with his passion for wetlands and waterfowl to establish a very productive career in conservation," Babcock said. "His leadership skills have served him and Ducks Unlimited very well and brought credit to K-State. It is most fitting that he be recognized as a distinguished alumnus."