October 15, 2013
All-University Campaign: Join us, win prizes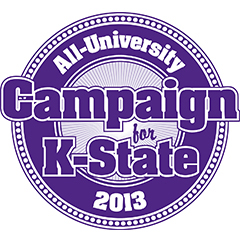 Did you know that, as of Oct. 14, more than 1,700 K-State faculty and staff members have already made a gift to the All-University campaign this year? That's 34 percent of all faculty and staff. Click here to see your group's participation numbers so far.
Have you made your gift yet? If you need extra incentive, remember that after you make a gift, you are automatically entered to win some great prizes. You'll have a chance to win everything from passes to the recreation center to a paid day off work. See a list of this week's prize winners.
Get started on your gift now or find out your work group's participation rate so far.
The All-University Campaign is an opportunity for the K-State family to advance our great university. Through our participation, we show our K-State pride and send a powerful message to our donors, legislators, corporations and foundations, alumni and friends that we believe in K-State's future. Every gift, regardless of the size, makes a difference.
Remember: You can follow the All-University Campaign on Facebook and Twitter.